Exclusive Dani Parejo: Valencia top scorer warns of "mistakes"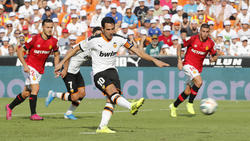 Dani Parejo is not only the captain of FC Valencia, the 30-year-old is also his team's top scorer this season. In an exclusive interview with our media partner LaLiga, Valencias Zehner spoke about the advantages of video evidence and the "intelligent" restraint of trainer Albert Celades. And praised a teammate in mid-October: you scored a magnificent free-kick goal in mid-October against Atlético Madrid. 30 meters from the gate, in the background the murmur of Valencia fans. Whenever Valencia gets such a free kick, Dani Parejo is at the helm and it gets dangerous.
    
Dani Parejo: Yes, that's right. I felt good, confident and played a good second half. Whenever you take a free kick or a penalty kick – that's a situation I like to visualize with the confidence to score the goal. Are you training these free kicks explicitly? Right now we have a game every three or four days and thank goodness come I used a lot. You also have to regenerate. It is difficult because you feel the strain and you should save energy whenever possible. When you train these actions, your thighs always suffer a bit, so of course you are training, but with a lot of brains. You also take responsibility for the penalties. You have already scored as many goals from penalty kicks as you did in the entire pre-season. The one against Alavés even in Panenka style, yes, I have already reached last year's figure for the 911s, right. I think it's very important because of the video referee, because there will be a lot more penalties. The head referee often does not see certain actions correctly, but thanks to the help of the VAR, with an additional referee in front of the screen, his decisions can be corrected. You can already see that there are many penalties on each match day and there will be more, does the fact that there are more and more penalties also mean that the shooters have to vary the execution more often? Just like in the game against Mallorca, where you shot first in one corner, then the other, or the Panenka 911 against Alavés.Yes, absolutely. The other teams do the same as we do, watch videos of the opponents to analyze their strengths and weaknesses and the goalkeepers work on aspects such as the penalty. There are now programs, apps, a million videos where the last 30 penalties were shot, in which corner the opponent shoots more or less often. Of course you have to vary, the goalkeepers are up to date these days, it takes a certain coldness to shoot a Panenka-style 911. What was the process of making a decision to kick it like this? We were 1-0 in the lead and Alavés (Antonio, editor) had Sivera in the goal, our own. He used to train with us a lot at the time and I think he knows me pretty well. I decided to shoot like this because I was convinced that he would go into a corner. After the game he said to me that he was considering stopping. When you train with your teammates, they get to know you well and it's always a little more difficult to compete against them – Dani Parejo, top scorer at Valencia CF. How does it feel? I am satisfied. It is always important to score goals. There are six penalties and a free kick goal, but I think you have to do that too. In the Champions League I missed Ajax and we finally lost 0-3. On the other hand, I scored against Lille at 0-1 to equalize and in the end we won 4-1. Penalties may be a little easier, but you have to put them in first. I am satisfied with my result, but I would also like – and it will come so, I have no doubt about it – that the strikers will score many goals this season as well. What is your goal in the season? League to create next year. We compete with Sevilla, Villarreal, Real Sociedad, who play an outstanding season, Athletic Bilbao … I don't know if I forget anymore. We all fight for the same goals, with Sevilla and we being the only teams that play during the week. You may not yet feel this double burden, but in the long run it is always noticeable. And then of course we want to get as far as possible in the Copa del Rey. Last season was wonderful for us when we made history with the cup victory for the 100th anniversary. Are you surprised at the level at which young star Ferrán Torres is acting? I think he's playing a great season, especially the games against Lille and Granada. In these two games he showed a leap in quality at all levels. Not because he scored two wonderful goals or because he was one of the best players on the pitch, but because of his understanding of the game, his work and how he put himself at the service of the team. I advise him to continue like this. He has not yet achieved anything. He is young and has so much to show. With appearances like that, he makes us a better team. As captain of Valencia CF, what would you highlight at team level? The collective. We have no players here who decide a match alone. Round by round it shows that we have to be a team for more than 90 minutes, for good and for bad. If we can, we will win far more games than draw or lose at the end of the day.What can you tell us about Albert Celades after working under him as a new coach for three months? The coach came in a difficult situation , uncomfortable for both players and him. Step by step, he gives us his idea of ​​football and how he wants the team to act. After this time and since Marcelino left, you really have to appreciate what this team has achieved so far. In other situations – and there have been cases like this – we might be twelfth under these circumstances. Thank God, today we have an incredible collective, not only with footballers, but also with people around, which is very important and you helps push things forward. From the beginning we tried to help the coach wherever possible and he also does everything to make things go well. I think you have to support each other at every moment. It may be a saying, but the truth is: together we are stronger, Albert Celades wants to give Valencia CF his identity. How is his valencia How do you want to play? the 4-4-2 system was typical under Marcelino, it is true that Marcelino had a series of automatisms. To make drastic changes here would be a mistake in my eyes. Especially when you have zero time to work on these things, as we currently have an important game in front of us every three days. I think the trainer is very intelligent in this regard. Every now and then he turns a screw or two when he thinks this is best for the team in certain situations in the game, we often played in 4-4-2, other times in 4-3-3 and the results were similar. The trainer has only been here for a short time and has to get to know us all a lot better. I think he will build in his playing style step by step. As long as the results are positive, we win and achieve the goals, everything is much easier. How do you feel about yourself this season? It's your ninth at Valencia CF, you get a lot of bets, thank God that's true. I am very proud to have been with a club like this for nine years. I have practically spent my entire professional career here. It's been nine years that haven't been easy, but I am proud to wear the Valencia CF jersey and represent Valencia in Spain, Europe and the rest of the world, and I really appreciate playing for such a demanding club where you fight to achieve big goals every year. Nice goals, but also very, very difficult. Being in a club like this for nine years is an honor and makes me proud. I would like to thank everyone who makes it possible for me to live this dream: My family, my friends … And I hope this dream will continue for a long time.