FC Augsburg shoots TSG Hoffenheim back into the crisis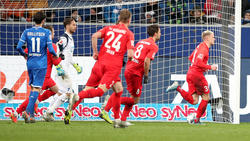 Led by double goal scorer Philipp Max and four-way preparer Florian Niederlechner, FC Augsburg has finally become the team of the hour in the Bundesliga won 4-2 (1-1) at TSG Hoffenheim at the start of the 15th matchday. The FCA (20 points) has been unbeaten for five games, taking 13 out of 15 possible points.
    
Max in the 11th and 50th minute by penalty, Frederik Jensen (56th) and Iago (85th) with his first Bundesliga goal scored for the guests who won for the first time at TSG. 21 points), which had previously not lost eight games in a row to Augsburg after the fourth game without a win in the crisis. The goals of Robert Skov (14th) and Jürgen Locadia (80th) did not change that. "I am very happy that it worked for the second time. I never thought so, but it is nice," said Max after his second double pack at "DAZN". He enjoys the current run: "After the 1: 5 in Gladbach at that time, we worked meticulously, we knew that we could do more. The game in Paderborn was the turning point." The 23,309 spectators in the Sinsheim arena initially saw a game without noteworthy highlights. Hoffenheim, who had to get along without Ishak Belfodil, Steven Zuber and suspended Stefan Posch, clearly felt the uncertainty as a result of the winless series, and the lack of two central defenders Kevin Vogt and Benjamin Hübner after their recent injuries initially only sat on the reserve bench, after about ten minutes looked negative. Defender Kevin Akpoguma looked bad after Max's goal after Florian Niederlechner did a lot of preparation, but the guests, who lacked Icelandic striker Alfred Finnbogason and suspended Ruben Vargas, were only able to enjoy the lead for a short time. Full-back Skov immediately equalized, after which the encounter quickly calmed down. Already in the 29th minute TSG coach Alfred Schreuder took the yellow-struck midfielder Diadie Samassekou off the field and brought Dennis Geiger.FCA double strike after the break shows the effect The game was not necessarily lively due to the change. The hosts could hardly think of anything against the defensive Augsburg. The game dragged towards the break, only Ihlas Bebou in the 43rd minute caused danger in front of the Augsburg goal, and at the start of the second round it was Akpoguma again who made a serious mistake. After his foul on Niederlechner, referee Bibiana Steinhaus decided on a penalty. Max didn't get asked twice. Shortly thereafter, Jensen raised after a ball loss from Bebou, after which the Hoffenheim team ran largely headless. For a long time, the Augsburgers had little trouble with the Kraichgauer's insufficient attempts. After a Skov cross, Locadia made it exciting again before Iago decided the game after a counterattack.