Formula 1 | Ferrari boss reveals: engine for 2020 "significantly changed"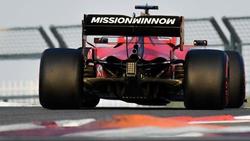 Ferrari could win only three races with Sebastian Vettel and Charles Leclerc in the 2019 Formula 1 season, while Lewis Hamilton and Mercedes were unbeatable again and secured for the sixth time in a row the double crown. The top speed advantage of Ferrari did not pay off – and shrank during the season.
    
Although the engine and aerodynamics rules remain stable for 2020, the manufacturer has decided to overhaul the drive because they believe there is more potential. "We've had a major impact on our cylinder engine architecture," reveals Ferrari team principal Mattia Binotto looking ahead to 2020. "The change we're aiming for next year is a pretty important change to the engine self." Although Ferrari established a speed advantage on the straights last season, it was often overlooked in the bends, which was expensive at several races. That will change next year. While engine development will aim to maintain, if not improve, Ferrari's performance advantage, tackling the lack of downforce is another focus for 2020. "Our car is aiming for much more downforce By having more downforce and certainly more resistance, "says Binotto.Presentations appointment is already fixedThe Ferrari team chief admits:" We do not expect that we are on the straights as far ahead as before, but you never know what the others do, and the things we've learned make us realize that we certainly need more downforce – as we saw at the end of the season, there's still a gap to fill. "Ferrari is in the process of designing his own However, Binotto emphasizes that there will be "some more sessions" to set the specification of the car for the tests in Barcelona. "We're going through a homologation crash test, but we're still developing in the wind tunnel – the concept is already defined." Eight days before the first test of the new year, on February 11, Ferrari will officially launch its car. "We will introduce our car very early and I think we will be first," says Binotto. On February 19th, the first of two three-day tests will start in Barcelona, ​​the second will take place shortly thereafter from the 26th to the 28th of February.