Hasan Salihamidzic raises Gladbach to the new "benchmark"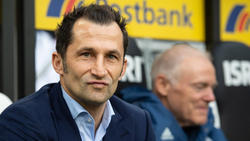 After the 1: 2 at Borussia Mönchengladbach FC Bayern Munich is the favorite role on the eighth championship successively los.Sportchef Hasan Salihamidzic made the furious Borussia to "Benchmark" for the league in terms of title win: "You are ahead – and who is up front, who has a claim on it."
    
In the coaching question Salihamidzic despite the second Bundesliga side in a row under interim solution Hansi Flick proclaimed calm, actionism should not exist. "Just as we have kept calm after victories, you have to keep calm now and still be very honest inside," said the Bosnian. During the winter break is analyzed whether it goes on with Flick or another coach. "We saw it running in the first half today, no, nothing has changed," said Salihamidzic on the agreed schedule on the coaching question.