Karl Geiger misses podium at dress rehearsal in front of the Four Hills Tournament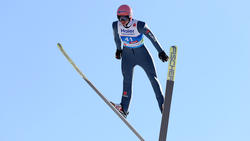 Ski jumper Karl Geiger just missed the podium in the last competition before the Four Hills Tournament satisfied after he was third after the first round.
    
The 26-year-old, who finished third in the victory of Poland's Kamil Stoch on Saturday, was less than a meter behind a podium finish after jumping to 133.0 and 125.0 m (260.6 points), followed by Kobayashi (272, 0 / 132.5 + 134.0), who jumped from seventh place to victory, the Slovenian Peter Prevc (263.1) and Jan Hörl from Austria (262.0) took second and third place, falling from Stefan KraftHörls compatriot Stefan Kraft crashed in the second round without any major effects after landing, but lost the 18th place overall lead to Kobayashi after only one day, while Stephan Leyhe came in tenth as the second best German, and Pius Paschke, tenth on Saturday, missed the 13th place The second top ten placement of the weekend and his career. Eisenbichler, Friday and Co. weak again The poorly formed triple world champion Markus Eisenbichler had missed the second round for the fourth time in the seventh competition of the season. Richard Friday, 2014 un d 2017 winner in Engelberg, landed only on the 61st place. The four hills tour begins on December 28th with the qualification in Oberstdorf, the first competition jumping is due a day later.