Ligue 1: PSG | Neymar talks about his future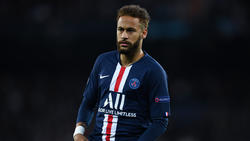 The Brazilian football star Neymar, who recently wanted to emigrate, has committed to his current club Paris Saint-Germain – at least for the moment. "My priority is PSG," said the striker in an interview with "France Football" and said: "Today I am Parisian. I give 100 percent, I will give my life on the pitch for PSG to triumph."
    
Neymar had been flirting with a return to FC Barcelona for a long time in the summer, which did not materialize. Even last week, Neymar had avoided making a commitment to the club of German coach Thomas Tuchel. "What makes me happy is playing football," he said after the 5-0 win in the Champions League against Galatasaray Istanbul evasively answered the question whether he was completely happy in Paris: "It doesn't matter where I am – I only need one ball, two goals and teammates." change. "Why should I want to get out of here? My contract is two more years, the team is evolving. We have to focus on this season to do our jobs well and win as many titles as possible," said the one with 222 million The most expensive football players in the world continue to be the main goal is to win the Champions League, where PSG will meet Tuchel's former club Borussia Dortmund in the round of 16.