Max Verstappen is a crowd-pleaser of Formula 1 fans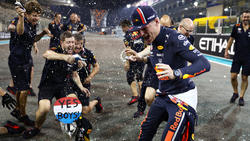 Since 2016, Formula 1 fans have been able to choose their "driver of the day" after a Grand Prix. Exceptional achievements should be rewarded with this vote. Not always, however, the choice falls on a top driver or world champion: 2019 Lewis Hamilton is completely empty. In the favor of the fans is particularly high Max Verstappen.
    
Seven times, the Red Bull driver was voted the "driver of the day" of a 2019 race. In Spain, Monaco, Austria, Germany, Hungary, Mexico and Brazil, the Dutchman had the nose clearly ahead. Only in 2016 he got even more popular with eight day wins. Since the introduction of the vote, the 22-year-old has already won a total of 24 victories. Leclerc has been elected four times, Hülkenberg wins in Abu Dhabi. His biggest competitor in the fan survey this season was Charles Leclerc. The Monegasque impressed the Tifosi in Bahrain, Azerbaijan, Great Britain and at home win in Italy. Ferrari team-mate Sebastian Vettel was rewarded for his achievements in Canada, Singapore and Russia. Three drivers each come up with two daily wins: Mercedes driver Valtteri Bottas (Australia, Japan), Red Bull rookie Alexander Albon (China, USA) and McLaren Newcomer Lando Norris (France, Belgium). In farewell to Formula One, Abu Dhabi's majority voted Nico Hulkenberg "the driver of the day". Ricciardo and Raikkonen leave empty-handed. Calculating the average percentage the driver won the day's standings , then comes at the top a little different picture: With an average of 30.83 percent Leclerc received just slightly more popularity than Verstappen with an average of 29.53 percent. Also curious: Only seven times was the winner of a race after "driver of the day". World champion Lewis Hamilton was not elected once for the first time since the poll was introduced. Daniel Ricciardo and Kimi Räikkönen were also empty this year, both scoring points in previous years.