Nico Rosberg believes in possible world title of Sebastian Vettel with Ferrari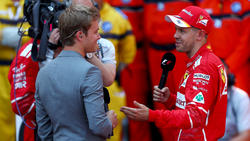 For the second time in his Formula 1 career Sebastian Vettel has lost a team-internal duel in 2019 for a full season. Against Charles Leclerc he had in Ferrari with 240: 264 points or 1: 2 wins the lack of sight. The four-time world champion otherwise only experienced so far in 2014, when in his last Red Bull year Daniel Ricciardo with 167: 238 and 0: 3 subject.
    
His minute-long "shock" after the collision with Leclerc in Brazil and the birth of his third child caused some to speculate about a possible Vettel resignation. What, the Ferrari star has clarified in the meantime, is out of the question: "If I do not break two knuckles, I'll be at the start next year!" "Of course we want him to continue," says "RTL" – Expert Nico Rosberg. "He's one of the best riders out there, and with the Ferrari he has every chance of finally getting the red world title for next year – that's his big dream – understandably, he wants to follow in the footsteps of Michael Schumacher that's definitely possible. "According to Rosberg, the key to reversing the trend after a mixed phase (which, strictly speaking, began in 2018, with the Hockenheim outage) is hard work:" He has to fly to the factory right now He just has no confidence. "" If he brakes, the car is loose and oversteer, you do not feel good about it, he says, and you have to work on it A lot about the aerodynamics, more downforce definitely helps, but they do too, "says Rosberg opposite" RTL ".Nico Rosberg: Vettel" works very meticulously "" Then he just has to look somehow, if he's still crazy How to find or learn something from Leclerc. The big weakness was the weekend, also this weekend. Although only a tenth, but then you have to take the worse strategy to try something, then fall back at the start and so on. Then comes one to the next. "Rosberg himself knows what he's talking about, and in 2016 he made his way to the world title with hard work and total focus on Lewis Hamilton, whom he admits to be perhaps more talented in nature He tried everything in 2016, "and a little more. Sometimes too much. But Sebastian is one of those. He works very meticulously. That's not the problem. "" The main thing the team has to do is to give it a better car, "believes another" RTL "expert, Timo Glock, although he does not want to completely dismiss Vettel from responsibility:" He also has to work on his weaknesses that he had this year. He has always made a mistake. "Which was certainly because the car was not a car that flatters Vettel's driving style, Leclerc got along with it better Glock:" The downside is the aerodynamics, the downforce is missing. We do not have to discuss engine power, but the downforce is just not as good as Mercedes's. You have to work on that. "