RB Leipzig at the top for the time after the demonstration of power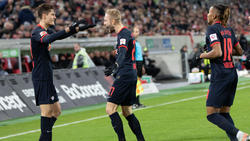 RB Leipzig rushes from victory to victory in the Bundesliga and is at least one step ahead in the battle for the autumn championship. Three days before the hit game Borussia Dortmund celebrated their sixth successive Bundesliga victory with the 3-0 (1-0) win at Fortuna Düsseldorf and took the top spot with 33 points, which Borussia Mönchengladbach (31) can win back on Sunday.
    
In front of 35,387 spectators in the Düsseldorf arena, Patrik Schick (2nd minute), Timo Werner (58th / hand penalty) and Nordi Mukiele (75th) scored the goals for Leipzig's sixth away win. Fortuna, who has been victorious for five games, is now in 16th place in the relegation zone. In the duel between the generations of coaches between the 66-year-old Friedhelm Funkel as the oldest and Julian Nagelsmann at the age of 32 as the youngest Bundesliga coach, the Düsseldorf coach had to get the first one before the game Accepted setback: goalscorer Rouwen Hennings had to pass due to flu, and Jean Zimmer was also missing due to injury. So Robin Bormuth and Opoku Ampomah came to their second starting line-up. Chic after 65 seconds. The favored guests changed to five positions after the 2-2 victory against Olympique Lyon in the Champions League and brought the attack back on. The loaner from AS Rome demonstrated early starter qualities for the second time, as it ended the first attack over Werner with the opening goal after 65 seconds. The 23-year-old had scored in the 3rd minute of the 3-2 win in Paderborn. As expected, the guests were the dominant team and had additional good goals through Marcel Sabitzer, Stefan Ilsanker and Dayot Upamecano. The Tables-16. was under a lot of pressure against the superior Leipzigers and could rarely free himself, especially since Hennigs lacked the best scorer with ten goals. RB Leipzig celebrates "serial offenders" Werner The lively Ampomah had some good scenes, but overall the Düsseldorfers lacked the risk of scoring. The best chance to equalize was offered by Dawid Kownacki, who only hit the inside post in the 44th minute, before the hosts were lucky with a deflected free kick by Marcel Halstenberg. Fortuna's good goalkeeper Zack Steffen just got hold of a header from Werner.The Düsseldorfers were a bit more courageous with the short gap and came to other good scenes without posing any major problems for the Leipzig defense, but the decision in favor of the guests was narrow an hour when Werner converted a penalty given by video evidence to 2: 0. The striker scored in each of the last six games, scoring nine goals. The substituted Mukiele put the end point.