Rebensburg misses the podium at the next Ledecka coup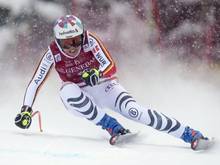 Ski racer Viktoria Rebensburg narrowly missed the podium at the first downhill of the new World Cup season. The 30-year-old landed in fourth place in Lake Louise, because of a Czech like in the Olympics 2018 succeeded in a sensation. Ester Ledecka, who has been the best snowboarder in the world for years, duped the competition and celebrated her first victory as well as the first podium finish of her World Cup ski career. "I'm really happy with the run," said the 24-year-old on the ORF.
    
Rebensburg got the "maximum out" At the race, which was postponed twice because of heavy snowfall and also shortened, she relegated Corinne Suter from Switzerland (+0.35 seconds) and the Austrian Stephanie Venier (+0.45) on the ranks two and three. Fourth then Rebensburg, coinciding with the Austrian Nina Ortlieb (+0,66). The experienced athlete of the German Ski Association (DSV) did not quarrel, especially since she was the first starter difficult conditions. "I am satisfied with my ride, I have brought out the maximum," said Rebensburg, who had recently trained little departure. Weidle surprised as eighth teammate Kira Weidle, who had been third in Lake Louise last year, landed in eighth place ( +0.82). It was not easy, the visibility was very demanding and the track too, of course, "she said, looking motivated for the second shot on Saturday. "Now I know how it works, I feel well and can attack again." Ledecka had previously attacked – and how. In her 34th World Cup race, the Czech showed an almost flawless ride. Previously, she had ridden in the World Cup only three times in the top ten and never got beyond a seventh place. The biggest success of her career was celebrated in 2018 at the Winter Games in Pyeongchang, when she made sensational gold in the Super-G.