San Francisco 49ers before play-off move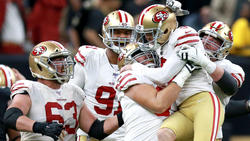 The San Francisco 49ers around the German football professional Mark Nzeocha are in the US professional league NFL after a victory in the highly dramatic top duel in the New Orleans Saints close to the Moving into the playoffs.The 49ers won after a true touchdown festival in the Superdome with 48:46 and celebrated the eleventh victory in the 13th game.
    
Should the Los Angeles Rams fail to win against Seattle Seahawks on Monday night, San Francisco are in the knockout stages. The Saints (10-3 victories) had secured first place in NFC South the previous week While defensive player Nzeocha scored a tackle, the two quarterbacks took center stage: 49ers playmaker Jimmy Garoppolo threw four, and Saints star Drew Brees five touchdowns. The decisive field goal Robbie Gould transformed the score with the last action of the match. Meanwhile the Baltimore Ravens made the playoffs perfect. The team around quarterback whiz kid Lamar Jackson won at the Buffalo Bills 24:17 and booked with 11: 2 victories as the first team of the AFC the ticket for the postseason.