Suat Serdar on his new role as lead player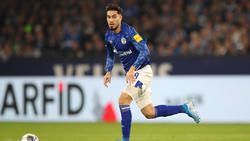 Since David Wagner took over the reins at FC Schalke 04, it has been running largely around Royal Blue. A face of the upswing is Suat Serdar, who is now one of the top performers in the team. Now, the German international has commented on his new leadership role in the team and the good performances of his team in the first round.
    
Only the biggest optimists on Schalke would have expected after the messed up last season, which ended with the 14th place in the table, with such a mood swing. Royal Blue has regained its grip and is fighting to return to European business this season. A fact that comes as a surprise, but not unexpected for Serdar: "We were hoping for that in preparation, we gave a lot of throttle and worked on ourselves – even with the new coaching team, which did us good," said the 22nd Yearlings in interview with "Sky". Although the team is currently in fourth place and the international ranks clearly in sight, Serdar warns against too much euphoria: "The last year has already made it clear to us that we should remain on the ground, I have said several times that I do not want to talk about Champions League or Europa League at the moment. "Nevertheless, the performance curve is not only up on Serdar. Together with the shooting stars Amine Harit, Weston McKennie and captain Alexander Nübel, the former player of Mainz 05 is one of the constants of the season and has become a leading player. "That makes me very proud and gives me a lot of self-confidence, so it can go on," said the native Bingener optimistic.EM-participation next big goal, especially the contract extensions of Harit and McKennie sees the midfielder as a "good sign". In the near future Nübel will also be tied up in the long term: "I would like to see him here next season, he is a very good goalkeeper and I would be happy if he extends his time here," said Serdar about his team-mate. Next year, the 22-year-old could reach another milestone in his young career with the European Championship. "That would be nice, but I'm not putting any pressure on that," Serdar said in a relaxed tone: "I want to keep performing consistently in every match here at Schalke and in the end you'll see if I'm nominated or not." His first appearances in the jersey of the German national team have nevertheless left traces: "A great experience, a dream has come true". If Serdar continue to deliver under Wagner such strong performances as in the first round, he may certainly continue to dream in the next year.