That's why Formula 1 makes sense for Mercedes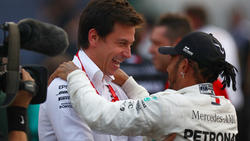 Toto Wolff is convinced that the Daimler Group will remain committed to the Mercedes factory team in Formula One if it succeeds in reducing the cost of the formula -1 team (Brackley) and the drivetrain factory (Brixworth). This is his master plan for the next Concorde period, which will include a budget cap from 2021 to 2025. "We need to become more efficient, make a solid business case, and reduce Daimler's grants to our program, if we can , then we will stay in the long term in Formula 1, "says the Austrian boss of the Mercedes racing team.
    
In 2018, Daimler AG subsidized the chassis location Brackley with a total of 75.8 million euros, according to the balance sheet of Mercedes-Benz Grand Prix Limited (MGP). However, of this, 29.8 million (for engine leasing and other items) flowed back into the group. The bottom line is a net subsidy of 46 million euros. Not read out is the amount of the Daimler net subsidy in the direction of Formula 1 from the balance sheet of the engine location Brixworth. Mercedes AMG High Performance Powertrain Limited (MHPE) closed the financial year 2018 with a profit of 3.3 million euros. But MHPE is not just concerned with the Mercedes team. Brixworth: Formula 1 costs are not reported So also included in the MHPE balance for the Formula E program or for the plug-in hybrid supercar Mercedes-AMG One. In addition, MHPE builds not only Formula 1 engines for the Group's own factory team, but also for the customer teams Racing Point and Williams (and from 2021 for McLaren). On the staff side, the Mercedes operation has increased from 2017 to 2018 by 114 employees. In total, MGP and MHPE as of the end of 2018 employed 1,663 people. Of this, 968 are accounted for by MGP in Brackley and 695 by MHPE in Brixworth. Mercedes has made its Formula One program 2018 cost just under 500 million euros (turnover). The bottom line is that the program costs far less because it generates substantial revenues, such as participation in the FOM pot or sponsors such as Petronas. "Formula 1," says Wolff, "is one of the best investments within the entire Daimler Group, generating more than a billion in value." "Formula 1 and motorsport as a whole are part of our DNA I am the one who is responsible for the motorsport activities, but I am also the first to recognize that all activities must be put to the test when times in the automotive industry change. "Wolff: Formula 1 refreshing for the Mercedes Image "The bottom line is everything about the brand," says Wolff. "What we do here is entertainment, but it's also technology, we drive the most efficient hybrid engines and give the brand a sporty image, and since we embarked on this successful journey in 2014, we've contributed to a different Mercedes brand image. "Of course road cars are the most important thing with their style and technology, but winning in Formula One has helped change how the brand is perceived," says Wolff. That was also the reason why the board did not let itself to come to the season finale to Abu Dhabi: "It is a positive exercise, from which Daimler profits." Nevertheless, the motor sport activities of almost all large car manufacturers are currently being put to the test. Daimler CEO Ola Källenius recently announced a savings program in the billions. However, there are no concrete indications that this will affect Formula One. "As of today, we are committed," Källenius clarified at the beginning of November as part of the Capital Markets Day of the Daimler Group in London. He rates the six consecutive World Championship titles for drivers and designers as "historical success" – and the Formula One program as a whole "as an activity of our marketing and brand strategy, which has paid off well in recent years." Daimler CEO Formula 1 pays off for us "Regardless of whether you're a Formula One fan or not, you have to rationally judge these marketing investments, and we value all of our marketing and media investments based on their reach, impact, and cost We use the Nielsen method to measure the media value of our Formula One activities. "" This media value exceeds one billion euros per year, "calculates Källenius. "So we're creating an extreme reach and an extreme impact from this activity, we do not want to discuss the costs publicly, but they are surprisingly small, because you should never forget that Formula 1 is not just a cost side, but also a revenue side. "Mercedes is committed as a brand until the end of 2020 contracted into Formula 1. The drafts for a new Concorde Agreement (or individual contracts between teams and right holders) are being worked on. A contentious issue is the distribution of revenue. At a meeting in Abu Dhabi, the teams have deposited that they want to have more of the big cake in the future. On the other hand, starting from 2021, a budget cap will be used to limit the costs in Formula One. Each team can then spend a maximum of 175 million US dollars per year (equivalent to 158 million euros). However, this does not include items such as driver salaries, highest paid employees and marketing & Co. industry experts assume that the budgets of the top teams will approach a total of 250 million euros. That would be a significant cost reduction for teams such as Mercedes, Ferrari or Red Bull – and would make Formula One engagement for a group like Daimler possibly even more cost effective.