That's why Karl-Heinz Rummenigge envied the BVB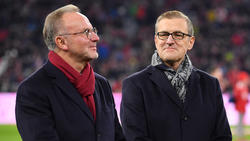 The German football champions FC Bayern has always been known not to praise the competition too exuberantly or even to envy anything. All the more astonishing is what CEO Karl-Heinz Rummenigge has said about BVB. At a fan meeting on Monday evening, the 64-year-old confessed: "I would like to have the biggest stadium in Germany, there is one in the west, which is a bit bigger. "
    
Of course, this meant the Dortmund Signal Iduna Park, which offers space for around 81,000 spectators and thus 6000 more than the Munich Allianz Arena. Originally, the football temple of FC Bayern, which was completed in 2005, should have become even larger, said Rummenigge. Former President Franz Beckenbauer had once wished for a stadium with 100,000 seats. However, the unloved city rivals TSV 1860 intervened. "We were driven into a partnership by the city of Munich at that time – either a partnership with the Vierzahl-Verein or there is no approval," said Rummenigge, who went into great detail: "These 30,000 more would have cost a lot more money back then – I estimate 250 Millions, that would never have been possible for the four-number club. "