Third bankruptcy in a row: Red Bull Munich loses to Adler Mannheim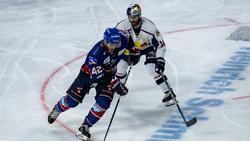 Leader Red Bull Munich continues to lose feathers in the German Ice Hockey League (DEL). In the new edition of the previous year's final, the runner-up lost defending champion Adler Mannheim 2: 4 (1: 1, 1: 3, 0: 0) on his own ice and already conceded the second league defeat against the Adler within a week. Last Sunday, Red Bull were the losers after extra time, for Munich it was also the third league defeat in a row, and on Tuesday the team of coach Don Jackson had also failed in the Champions Hockey League. In the table, the Straubing Tigers could move up to two points to the leaders.
    
Mannheim, on the other hand, is finding more and more the master form of the previous year after a weaker start to the season. The victory in the Bavarian capital was the ninth successive success in the DEL. Mannheim came third up to six points behind Munich: Christopher Bourque (10th) had given Munich an early lead in the game, Nicolas Krämer (16th) equalized for Mannheim in the first third. In the second third, Red Bull had another dream start thanks to Robert Sanguinetti (22nd). But Björn Krupp (34th), Matthias Plachta (36th) and David Wolf (40th) ensured the final result within a few minutes before the final third.