Thomas Berthold criticizes bosses of FC Bayern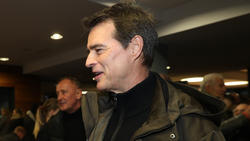 FC Bayern Munich impressively reported back with a 6-1 win against Werder Bremen last weekend after two defeats in the Bundesliga. According to Thomas Berthold, the double winner of the previous year is no longer the first title contender. Neither is BVB. "For me, RB Leipzig is the most serious candidate for the title," explained the 1990 world champion in the "kicker". At the moment the club has "the best storm and above all the best defense, which is always a big plus when it comes to titles".
    
The Saxons were also "well done" by the change of coach to Julian Nagelsmann, after the "long reign of Ralf Rangnick" there were "new, fresh impulses". FC Bayern, on the other hand, "managed its unique position for too long, was too hesitant, not willing to make decisions enough". The big problem is: "The squad was not rejuvenated in time. To Lewandowski there is still no real alternative, which is a great risk." Berthold: FC Bayern internationally stronger than BVB and Leipzig, Berthold said that the management was responsible: "The change of coach Ancelotti, Kovac, now Flick, the vacuum from the Hoeneß farewell, the summer theater around Sané – none of this throws good light on the planners. " In addition, "form crises and bad luck for injuries" came. In international business, former defenders still rely on the quality of FC Bayern. The Bundesliga is best represented with the German record champions. "I trust him more to finish in the last eight than BVB or RB." After all, the premier class is "not only about football quality, but also about mental strength. It is not so strong in Dortmund and Leipzig".