VfB Stuttgart wins crisis summit against 1. FC Nuremberg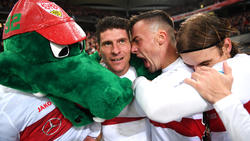 VfB Stuttgart have again proved their strength at home and reported back in the promotion race of the 2. Bundesliga. The team of coach Tim Walter defeated 1. FC Nürnberg scored 3-1 (0-1) thanks to a strong second half and sent the club even deeper into the crisis.
    
Michael Frey (10) brought the guests early with his third goal of the season. Silas Wamangituka (58.), however, equalized by video penalty on hand penalty. Only a few seconds later, the former international Mario Gomez (59) made for the Stuttgart lead. Philipp Förster (72) put in. "I never doubted today, because I know what the boys are up against, they bravely played forward, they tried to score goals and today we scored three goals and the third home game That's why I'm very satisfied today, "said Walter at" Sky ".VfB Stuttgart blows to hunt for the HSVWhile the VfB (29) improved by the seventh victory in the ninth home game in third place and tied with the Hamburger SV is lagging FCN (15) after the eighth winless league game in a row at relegation place 16 far behind his claims zurück.Für Nuremberg coach Jens Keller, who returned to his birthplace and old site, it was the third defeat in the third game After taking over from the luckless Damir Canadi, midfielder Daniel Didavi, after losing his five league games in the final seven league games, admitted after his muscle-tear in de Wade made his comeback after two months.The first chance of the game took advantage of Frey and slammed the ball after fine breast acceptance with a massive Vollspannschuss into the net.Two goals of VfB Stuttgart disallowedIn the wake of VfB scored two goals – supposedly. First, the goal of the Japanese Wataru Endo (28) by referee Robert Schröder was withdrawn because of a previous foul by Gomez to Hanno Behrens. Only six minutes later Gomez (34) was extremely thin offside. Before the break, FCN keeper Felix Dornebusch (39.) responded in a one-on-one against Förster brilliant. After the break, the VfB increased in front of 48,971 spectators the pressure. The third videobooth of the evening then revealed a hand-play by Enrico Valentini. The penalty due Wamangituka, who had replaced in the half the inconspicuous returnee Didavi, sure turned. Then Gomez and Förster each struck ice cold.