What grade does Vettel deserve? The big driver's certificate!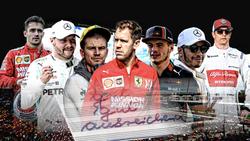 The Formula 1 season 2019 is history, Lewis Hamilton crowned world champion for the third time in a row. In the big sport.de voting we ask you: What grade do the drivers earn for their achievements in the past twelve months Was Sebastian Vettel really as bad as his disappointing fifth place in the drivers' ranking suggests? How did his new Ferrari team-mate Charles Leclerc fight? How good were Max Verstappen, Kimi Raikkonen or Nico Hulkenberg in his (for the time being?) Last year in Formula 1?
    
Your voice is in demand! Rate the performance of the Formula 1 stars according to school grades from 1 (= very good) to 6 (= insufficient). Then we evaluate the survey and present you the great user testimony to the premier class of motorsport.