"Are glad that Haaland is there"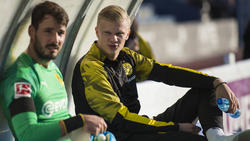 At Borussia Dortmund there are high hopes for newcomer Erling Haaland. BVB goalkeeper Roman Bürki is also pleased about the striker's signing. "At some point, however, the opponents adjusted to our combination game, and there was no size in the penalty area for crosses from outside. We are therefore happy that Erling Haaland is there," said Bürki in a double interview with Manuel Akanji about "Sport Bild": "We are now more flexible."
    
The goalkeeper can understand that the BVB bosses had foregone a striker before the season. "Our center forward Paco Alcácer scored 18 league goals last season, and Marco Reus and Jadon Sancho also scored many goals, so maybe in the summer it was a conviction to be successful without a big player in the storm center," said Bürki Despite the dangerous attack and an interim nine-point lead, BVB lost the championship last season. "I had the feeling that at the beginning of the second half of the season we weren't really aware that we could really become champions. This has nothing to do with a lack of maturity or too little courage," Akanji looked for causes maybe thought it would go by itself. "Bürki added:" We have a lot of young players who were showered with praise from all sides after the strong first half of the season. Maybe one or the other thought it would go by itself 99 and not 100 percent in the matter. Then it is not enough. "In the current season, the Dortmund team do not want to check off the championship despite a gap of seven points on Herbstmeister RB Leipzig. "We want to try everything to get to the top, nobody has written off this goal yet," said Akanji. The topic of championship is not omnipresent at BVB, but it hovers in the heads of the professionals. "I prefer to be seven points behind in winter and at the end of the season I am at the top than vice versa. We saw that such a gap had to be made up last year – unfortunately," said Akanji.Bürki extra time? "A few talks are still necessary for this" In the interview, Bürki also commented on a possible contract extension. "A few conversations are still necessary, but everyone knows how comfortable I feel here," said the Swiss. The 29-year-old was convinced of the development and ambitions of BVB. He and his club have the same goals: "To win titles. I am very ambitious," stressed Bürki. His contract with Borussia is dated until 2021.