BVB: Haaland vs. Sancho: Two youngsters, two worlds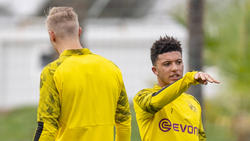 One young star – newcomer Erling Haaland – hardly noticed on his debut for Borussia Dortmund, the other BVB talent – Jadon Sancho – with a Protz video about his A missed goal, a missed ball in the penalty area, a couple of impressive sprints: Erling Haaland did not yet shine at his premiere for Borussia Dortmund. Another BVB young star is completely different: Jadon Sancho caused a stir on social media with a gold steak a la Ribéry in the swanky holiday video.
    
The 19-year-old Englishman, who has been fined several times for various misconduct, presented his 2.8 million followers on Instagram in a one-minute, professionally cut film pure luxury at the weekend. Gambling with gold-plated cards in a private jet, in the Lamborghini to the zoo and feeding the bears, on the yacht for swimming and jet skiing, with the beach buggy in the desert – and in the end the food that was a shitstorm for the former Bayern star Franck Ribéry The gold leaf-covered steak, 24 carats, just under 300 euros, in the classy Nusr-Et restaurant in Dubai was the finale of the Protz video, which went viral on the Internet. And there was little enthusiasm in the down-to-earth Ruhrpott, as many critical comments showed. It is noteworthy that Sancho, who had already been suspended by coach Lucien Favre because of repeated discipline, fell into the Ribéry trap, because after the fuss about the French a year ago, he was punished for his tirades on the Internet against his FC Bayern critics , the football millionaires had actually been advised against displaying their wealth in this way. But Sancho, who is flirting with a move back to England after two and a half years in Dortmund, was apparently of little interest. BVB has to be patient with Haaland In Dortmund, memories of Pierre-Emerick Aubameyang awake, who is a bird of paradise in the working-class city with a lot of bling-bling staged and inaugurated to London in 2018, only at the beginning of his BVB period is Haaland, whose move from RB Salzburg triggered a real hype. Captain Marco Reus compared the 19-year-old Norwegian to former goalscorer Robert Lewandowski, the BVB was celebrated for the 20 million winter transfer, when 0-2 in the test against FSV Mainz 05 at the end of the training camp in Marbella indicated the 1st , 94-m-Hüne showed his enormous speed, but also showed that he had to catch up after 45 minutes of use after a long injury break. "He needs a little more time, that's for sure," said Favre. Until the start of the second half of the season on Saturday (3:30 p.m.) at FC Augsburg, the new signing has a few more days to catch up on their training deficit. And Sancho a little time to digest the excitement around the gold steak.