European Handball Championship: France embarrasses Portugal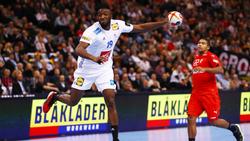 Favorite France has embarrassed itself to the bone at the European Handball Championship. The three-time title holder lost sensationally in Group D in Trondheim with 25:28 (9:12) and must fear for the entry into the main round. The team around superstar Nikola Karabatic showed a very weak performance against brazen Portuguese. After a 19:22 deficit (49th), the French equalized again (22: 22/53.), But the outsider had better nerves in the final phase.
    
"We didn't do what the coach asked us to do. We played too individually. The Portuguese defense is really strong, you have to move them, but we did everything else," said France captain Cedric Sorhaindo.Portugals Joao Ferraz was happy about an "incredible game." It was the result of "great teamwork", "considering that five of our players have a fever." With another title favorite in Group D playing Vice World Champion Norway, the French are now under enormous pressure. The Norwegians will start the tournament against Bosnia and Herzegovina on Friday evening, while co-host Austria has made a bespoke start in Group B. The Austrians defeated the Czech Republic 32:29 (13:14) in Vienna. Nikola Bilyk from the German record champion THW Kiel shone with twelve goals for Austria. Norway and Sweden confidently. Vice world champion Norway also laid the foundation early for the firmly planned entry into the main round. The team of the former Bundesliga professional Christian Berge won his first game against the EM newcomer Bosnia-Herzegovina with 32:26 (17:12). The world-class playmaker and future Kiel Sander Sagosen was also the most successful thrower of his team with twelve goals. The team of Bundesliga coach Kristjan Andresson (Rhein-Neckar Löwen) easily won against Switzerland in Gothenburg with 34:21 (20:13). Lion pro Jerry Tollbring, ex-lion Kim Ekdahl Du Rietz and Andreas Nilsson were the Sweden's top scorers with six goals each.