Next EM sensation: World champion Denmark fails early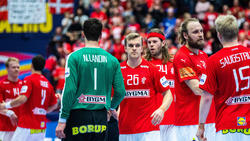 In World Champion Denmark the next title contender in the preliminary round failed at the handball EM. The hoped-for shooting aid from Iceland against Hungary failed to materialize: the Danish world champion around superstar Mikkel Hansen watched the cheering of the Hungarians with a petrified expression, their initially hopeful fans fought with tears. At the European Handball Championship, the next title contender after France had already failed in the preliminary round – because the hoped-for shooting help of Iceland failed in the 18:24 (12: 9) defeat against Hungary.
    
Before the Danish players warmed up for their insignificant last group game in Malmö against Russia, they had to watch the Hungarian dances around the outstanding goalkeeper Roland Mikler. The game against the Russians for the preliminary round was only a chore for the Olympic champion a year after the World Cup triumph in their own country, the 31:28 (12:15) victory was no consolation: a loss against Iceland and a draw against Hungary was too little for the Danes. The three-time European champion France had previously failed after losing to Portugal and vice-world champion Norway.Icelanders give victory and seal Denmark's foreign country does not take a point in the second tournament phase despite the victory against the Danes, while Hungary fights with two points in the next Play for the semi-finals. Norway, Portugal, Slovenia and Sweden complete the group. In addition to Mikler, Bence Banhidi was the Hungarian winner with eight goals, and until the break it looked good for Iceland under the eyes of the Danish players. But after the change, the team around the ex-Kiel Aron Palmarsson, who scored only four goals in eleven throws, made too many mistakes – the loud support of the Danish supporters did not help anymore, only six goals in the second half were clear too little. Icelanders simply couldn't find a match against Mikler, who was awarded the game. The disappointed Danes and their fans suffered.