Berger puts Lewis Hamilton on a par with Ayrton Senna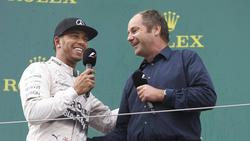 Lewis Hamilton is the only driver "I put on the Senna level," says Gerhard Berger. At the same time, however, the former Formula 1 driver, team boss and today's DTM boss admits that he "sometimes turns his nose up a bit at the Mercedes superstar." Hamilton is considered an exceptional talent when it comes to sporting aspects as a racing driver. With his self-presentation as a Society VIP and on social media, however, he polarizes. Many Formula 1 fans have little to do with his superstar behavior.
    
On the other hand, with his enormous level of awareness around the world, he helps to stir the drum for the Grand Prix sport. "Hamilton is unbeatable in terms of type for everyone. You may like it or not," Berger said in an interview with " Motorsport-Total.com ". "Sometimes I turn my nose up a bit when he pulls off his show. But this show is just a different league." Berger raves about "all-round talent" Hamilton. Then his skin color, how he dresses, his interests. He is also very talented, no matter whether musically, whatever he does. He is an all-round talent. And he also knows how to handle the marketing. The others don't get there. "As a six-time world champion, Hamilton 2020 has the historic opportunity to discontinue Michael Schumacher's seven world titles. And in the past three years, he has been able to ward off all attacks on his supremacy. The last person to beat him was Nico Rosberg in 2016.Mercedes is the measure of all things.Since then all attacks have failed, be it from Sebastian Vettel, Max Verstappen or Charles Leclerc. So what does Hamilton have that the other three don't have? "Hamilton once had a Mercedes. And in recent years the Mercedes has been the measure of all things," analyzes Berger. But: "Within Mercedes, Hamilton was always one step ahead. Rosberg (whom Berger managed briefly in his World Champion year; Ed.) Once cost him the World Cup. Rosberg was the only one who stood up to him a bit, but there is Hamilton left. Hamilton is the strongest in the field. "Hamilton is always there" I have to also say: He is the only one in the years that I put on the level of Senna. For me the two are the best I've seen in my career. Hamilton is always there. "" He also plays the piano on all keys, including the marketing of his person. And not just somewhere on a small scale, but also on a very large scale. He is top for Formula 1, does it excellently and does an incredible job for Mercedes, "says Berger.