Dirk Nowitzki Honored for Lifetime Achievement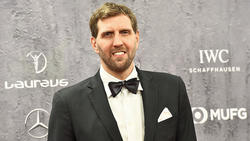 Basketball superstar Dirk Nowitzki was honored with the Laureus Sports Prize for his lifetime achievement just one year after his career end. The 41-year-old from Würzburg received the award on Monday evening at one Gala in Berlin for his services to sport. Nowitzki ended his impressive career with the Dallas Mavericks in the North American League NBA last April after 21 years.
    
In 2011 he won the championship with the Texans, in 2007 he was the first European to be voted the most valuable player in the NBA. The 2.13-meter Nowitzki received the Federal Cross of Merit in December, and Nowitzki was the center of attention in Berlin even before he was honored for his life's work. On Monday evening, other sports heroes struggled for a photo with the basketball superstar on the red carpet, taking the Laureus out of the hands of former boxing world champion Wladimir Klitschko. "I'm proud of where my journey took me," said Nowitzki, who had come to Berlin with his wife Jessica. The sports prizes were awarded for the 20th time. The Laureus World Sports Awards are the only worldwide award ceremony that honors the best athletes of the past year in different categories. Former German sports greats such as Boris Becker and Katarina Witt are among the more than 60 members of the Laureus Academy. The award ceremony took place in Berlin for the second time after 2016.