German relay team may be waving Olympic gold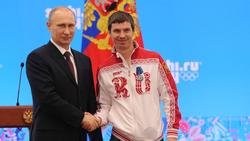 The Integrity Office of the Biathlon World Federation IBU has opened a new procedure against the two-time Olympic champion Evgeny Ustyugov from Russia because of the alleged violation of anti-doping rules On the first day of the World Championships in Antholz, the IBU mentioned irregularities in the athlete's biological passport between January 2010 and February 2014.
    
According to Ustyugov, who had ended his career after the 2013/14 season, the "use of a banned substance or method". Already in November 2018, the IBU had proceedings against Ustyugov and three other Russian biathletes to its in-house anti-doping commission The "ARD" doping editorial team reported in December last year that Ustyugov had been affected by the Russian scandal involving manipulated doping data. Ustyugov had won a gold mass start at the 2010 Vancouver Winter Games, and in 2014 he won the relay in Sochi Olympic champion in front of the German team. German relay team may wave Olympic gold If Ustyugov should be convicted of doping, the DSV relay team from Erik Lesser, Daniel Böhm, Arnd Peiffer and Simon Schempp could subsequently receive gold. The decision about a subsequent disqualification of the Russian relay team can but only to meet the International Olympic Committee (IOC) The Russian Biathlon Union (RBU) told the Russian news agency "TASS" that Ustyugov had filed a lawsuit against the Salzburg-based IBU with a court in Austria for sports but filed in a state court, "said RBU President Vladimir Drachev.