How high-flyer Giovanni Reyna enchants Borussia Dortmund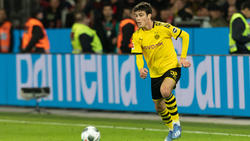 Giovanni Reyna is the next young star at BVB with the prospect of a great career – no wonder with this family. Sometimes Borussia Dortmund's high-flyer is a little too fast. "It's crazy," says Reyna: "My friends go to high school at home – and I play football in the Bundesliga here in Germany."
    
Reyna is a normal teen in many ways. He loves the rap star Drake, gaming on the console and french fries. As is the case with 17. At the same time, however, he has a talent for football, about which BVB coach Lucien Favre says: "You are blind if you do not see the strengths, do not see how good he is." Again they can count themselves lucky in Dortmund to have pulled a super talent on land, although even bigger fish in the lake snapped for it. "It was pretty much every major club in Europe involved," said sports director Michael Zorc proudly after the commitment last summer. "But we were very early on with him." "Gio" Reyna was also very early in the topic – family-related. His father Claudio also played in the Bundesliga (VfL Wolfsburg, Bayer Leverkusen) and also 112 times for the national team of the USA, he took part in three world championships. His mother Danielle was also a national team player (six appearances) .BVB jewel Reyna "was able to score and also prepare" That sounds like a sign of the way. But the youngest son – named after the Dutchman Giovanni van Bronckhorst, on whose side Claudio Reyna played for the Glasgow Rangers – was initially also an ambitious basketball player. Until he realized at 13 that there were even better chances in football: he trained at New York City FC, where his father was conveniently his sports director, and other family ties: Giovanni Reyna would not be in Dortmund today without his grandma Maria. Because his grandmother is Portuguese, the young star was allowed to take up citizenship and move to Europe as a minor non-EU foreigner before the age of 16. His father is of Argentine and Portuguese origin, Gio Reyna was born in Sunderland, England. He could theoretically play for four nations, but it will probably be the United States: there he is already captain of the U17s, and his strengths are obvious, see above. "He is able to score and prepare," says Lucien Favre. But: "He can also defend very, very cleverly for his young age." Who saw Reyna dance in the cup game at Werder Bremen (2: 3) through the opposing defense and threw the ball into the corner has a lasting impression get from his skills. Giovanni Reyna will probably go on crazy.