Bayern Munich: David Alaba allegedly contacts FC Barcelona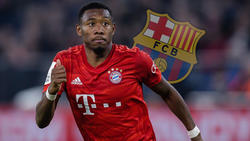 Does David Alaba leave Bayern to Barcelona? After the Austrian international left his whereabouts in Munich open, Spanish media claim that the 27-year-old has already contacted Barca.
FC Bayern may be faced with strenuous and costly negotiations. The Catalan newspaper "Sport" reports that FC Barcelona will soon be using David Alaba's services. The Austrian is only bound to the German record champions until 2021 and has recently left his whereabouts on the Isar open.
    
Although he feels very comfortable in Munich, the 27-year-old emphasized in an interview with "GQ". However, he could "basically also imagine taking a different path". When asked whether Barcelona or Madrid played a role in this performance, Alaba answered with a clear: "Yes. Whether during or after my career, I don't know. But I can definitely imagine it." One player changes in exchange for Bayern? "Sport" now reports that David Alaba has deliberately stopped his contractual talks with Bayern to be on the market after the end of the 2020/21 season at the latest. According to the report, the Munich-based company does not want to take the risk of a free transfer and would therefore have to sell the defender by summer 2020. Alaba's environment is said to have asked around at some European clubs and explored switch options – including FC Barcelona. The Catalans would like to sign the Austrian on the one hand, on the other hand, Barca is allegedly not ready to meet the Austrian's salary requirements. It is said that Alaba is demanding significantly more than the eight million euros it currently earns in Munich. According to "Sport", those responsible at FC Barcelona only want to get involved in a deal in summer 2020 if the transfer fee is not too high. To squeeze the total, the Catalans are apparently even willing to involve another player as an exchange object in the deal, but it is said that the door to David Alaba and FC Bayern is still closed. Nevertheless, Barcelona will continue to speak to the representatives of the Austrian to initiate a possible transfer.