BVB Flirt David with "enormous leaps in development"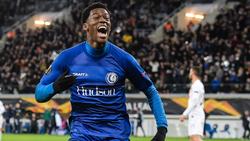 Jonathan David is likely to be one of the hottest personalities in the coming transfer summer – whenever this will start due to the Bundesliga suspended due to the corona crisis. In any case, his advisor continues to do everything to really drive up the market value of his player and fill the gazettes with his name.
No fewer clubs than FC Bayern Munich and Borussia Dortmund should be considered suitable employers for the Canadian striker jewel.
    
"His leaps in development are enormous. There are few better 20-year-olds in Europe," said his agent Nick Mavromaris in an interview with the "Ruhr Nachrichten", then to add: "He is a great footballer, a player for the top five Clubs in Europe. "Pithy sayings from the camp of the 20-year-old, who has also gained international experience with his Belgian club KAA Gent in the current season and has played seven Europa League games. In Belgium's elite league, David stands out with 18 goals in 27 games and, according to his consultant, should now be ready for the next step. This announcement was made a few weeks ago when Mavromaris first reported in Italian media that the German Bundesliga was "on" comes first "for the offensive man. If it is in the view of the player side, it cannot go fast enough with a move to Germany:" He wants to go to the Bundesliga ", the agent continues about the New York-born center forward, who however, it is contractually bound to KAA Gent until 2023 and could cost more than 25 million euros according to media reports. However, as the "Ruhr Nachrichten" reports, the young scorer is said to have already fallen through the grid with some player observers from Germany. A transfer of the storm talent, who claims to want to cause a sensation in the Bundesliga, would not be without risk.