BVB: This is how Erling Haaland changes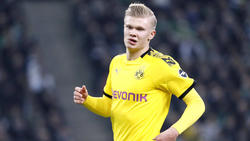 In January Borussia Dortmund secured the services of Erling Haaland. Since then, the 19-year-old Norwegian has delivered one gala performance after the other in the BVB jersey. The prospective customers are already in line.
Haaland consultant talks about the future of his protege Ex international England recommends Klopp Haaland TransferPays Real more than 100 million euros for Haaland in the summer? Manchester City apparently wants Haaland as an Agüero heir, allegedly the Norwegian will have an exit clause of 75 million from summer 2022 EuroUpdate, March 21, 2020, 3:09 pm: Even though Haaland's adviser Mino Raiola recently confirmed that the 19-year-old Norwegian will stay with BVB for as long as is necessary to continue growing, rumors continue to say goodbye to the Attacking youngsters into the herb.If Real Madrid is unable to reach an agreement with Kylian Mbappé of Paris Saint-Germain, President Florentino Pérez Haaland is said to have been the main goal of the Madrilenians. This is reported by "Don Balon". Accordingly, the top talent for the fixed transfer of 80 million euros is available. A sum that the Spaniards could easily raise. Especially since Mbappé would have to dig deeper into their pockets. However, the game of thought has a big catch: Already at the end of January, "Sport Bild" reported that Haaland's contract with Borussia does have an exit clause and that this is "only" 75 million euros, but the agreement should only come into effect at the earliest Season 2020/21. In summer 2020, a transfer from Haaland would be freely negotiable. It is currently hard to imagine that the black and yellow Haaland would let go. Update, 03/19/2020, 10:43 a.m .: Player adviser Mino Raiola has ruled out a change from Erling Haaland this summer. "He must continue to grow," said the 52- Year-old from the Spanish sports newspaper "Marca": "He will stay in Dortmund as long as necessary." Haaland, who is advised by his father Alf-Inge and Raiola, only changed from Red Bull Salzburg to Dortmund in the past winter break The 19-year-old has scored twelve goals in eleven competitive games for BVB so far. Raiola is also enthusiastic: "He is a great gem. It is fun to watch him and see how each game develops. Nobody thought that he would adapt as well to a team like Borussia." Haaland's contract in Dortmund is still valid until 2024, as the "Sport Bild" reported in January, however, the contract should contain an exit clause for 2022. Update 12.03.2020, 09:35 am The former English international Kevin Phillips recommends Jürgen Klopp and Liverpool FC a timely transfer of Erling Haaland. "It could be an area for which Jürgen Klopp looks around in the summer. It is a minor problem. They lack a classic goal scorer," quotes "Football Insider" Phillips. The 46-year-old can have an interaction between the Norwegian and Sadio Introduce Mané, Mohammed Salah and Roberto Firmino very well. "It would be an excellent attack." The first direct experience with Haaland has already been made on Anfield Road. In the group phase of this year's Champions League, the striker, then still with RB Salzburg, played against the Reds. As so often, he showed his scoring instinct and met shortly after his substitution. Update 05.03.2020, 12:55 pmThe father of Erling Haaland could well imagine the Spanish Primera División as a future station for his son. "We have been connected to more than 100 teams, but the Spanish league would certainly be a very good one for my son, big teams play there, "said Alf-Inge Haaland of the Spanish sports newspaper" AS ". "But it cannot be predicted whether he will play there at some point," said the Norwegian, who was previously a professional at Manchester City. According to media reports, Real Madrid in particular is said to be interested in the young striker. "Madrid is lurking and watching every move he makes," said "AS". During the winter break, Halleand moved from RB Salzburg to Dortmund, where he had a contract until 2024. In his first six Bundesliga appearances for BVB, he has already scored nine goals. Three goals came in the other two appearances in the DFB Cup and in the Champions League.Update 29.02.2020, 9:31 p.m. Real Madrid's interest in Erling Haaland seems to be intensifying. As the "Marca" reports, the royal now see it as a mistake that in winter they did not try to serve the Norwegian. The Dortmund offensive jewel has now been declared the ideal solution for the attack, and Real is looking for a new center forward who can follow in Karim Benzema's footsteps. The 32-year-old Frenchman has now passed his zenith a bit. Luka Jovic, who switched to the top Spanish club last summer, has so far not been able to meet expectations. If Real Haaland wants to sign in the summer, the transfer fee could be over 100 million euros. According to media reports, the youngster's exit clause will only apply from summer 2022. Update 28.02.2020, 12:36 pm As "Radio Marca" reports, Real Madrid has already inquired at the Revierklub about a possible Haaland transfer. The first talks between the clubs are said to have taken place. That Borussia will hand over the young Norwegian in the summer after only half a year is considered out of the question. "Sky" rather speculates that it is – if at all – the first talks for a transfer could act in two years. From then on, according to media reports, an exit clause in the attacker's contract is valid.Haaland: PSG or ManCity instead of BVB? Update 22.02.2020, 11:22 a.m.Real Madrid's club president Florentino Pérez reportedly communicated internally that no later than summer 2021 to stretch to Erling Haaland. "Don Balon" claims to have found out that the priority for the royal family is still Kylian Mbappé (Paris Saint-Germain). Should the French world champion 2020 or 2021 not be convinced by a switch to Real, full attention should be paid to a purchase from Haaland. A positive side effect: While at least 150 million euros would have to be leafed on the table for Mbappé, according to the report, "only" about 70 million euros are due for Haaland. Update 11.02.2020, 21:48 o'clock Manchester City should keep an eye on Haaland and found the perfect heir to star striker Sergio Agüero in the Norwegian youngster. This is reported exclusively by "90min". According to this, a collated contract detail fits perfectly into the plans of the Sky Blues: The Haaland contract, which signed with BVB in January to summer 2024, should have an exit clause that enables the talent, Dortmund after the 2021/22 season for 75 million euros, at which point ManCity will need a new scorer. Agüero's working paper ends at the end of June 2021, but the club is hoped that the 31-year-old will be one more year before he ends his career elsewhere. Haaland could succeed the Argentine.