BVB worried – Michael Zorc warns: "Summer will be unpleasant"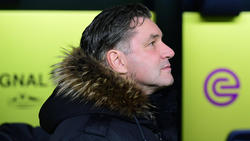 All transfer activities on hold: The Corona crisis is currently paralyzing Borussia Dortmund's future plans. BVB sports director Michael Zorc faces a Herculean task – and dampens expectations.
The Dortmund officials, with midfield youngster Jude Bellingham (Birmingham City) and full-back Thomas Meunier (Paris Saint-Germain), already have at least two transfer targets in mind for the coming season.
    
It remains to be seen whether and when personal details can be brought in a dry cloth – at least as long as football operations in the Bundesliga and throughout Europe are at a standstill due to the spread of the corona virus. "There is great uncertainty in all clubs," he said Michael Zorc opposite the "kicker" the current situation. "We first have to manage this crisis situation. After all, we don't know when it will be possible to play again." Three transfer execution reports in the shortest possible time, as in May 2019, when BVB met the obligations of Thorgan Hazard (Borussia Mönchengladbach), Julian Brandt ( Bayer Leverkusen) and Nico Schulz (1899 Hoffenheim) announced that "there will not be this year", announced Zorc. Instead, the BVB manager warned: "This summer will be unpleasant." When will BVB and Co. play again? Zorc had last told "Sport1" with regard to the coming weeks and months: "The main thing is that we will be back soon From today's perspective, games without a spectator are clearly the best case scenario for all of us. "However, the 57-year-old did not want to make a prediction of when the game could start again. In the league, however, "nobody believes that the season will end on May 16," said Zorc. The DFL wants to announce a possible timetable for the rest of the season on Tuesday.