Does the BVB hope in vain? Real Madrid plans with Achraf Hakimi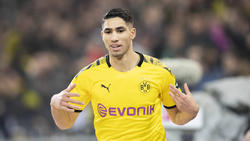 On July 1, 2020, Achraf Hakimi's two-year loan from Real Madrid to Borussia Dortmund ends. BVB would certainly like to firmly commit the 21-year-old, but the future of the Moroccan international is probably not in the ranks of the black and yellow.
Hakimi has to return to Real Madrid's lap after the season. This is reported by "Mundo Deportivo". But that's not all: The full-back should also sign a new contract in the Spanish capital with a term until the end of June 2025. The youngster's previous contract in Madrid ends in 2022.
    
According to the report, Hakimi himself has doubts about the return to Spain. The right foot should fear that it will only find itself in the role of reservist with the royal, it is said. Especially since Hakimi is one of the absolute regulars at BVB. In 2019/20 the winger played 37 competitive games. He scored seven goals and prepared ten more goals. Madrid coach Zinedine Zidane, in particular, should be a big fan of Hakimi and insist on a return of the talent. Hakimi is to be established at the royal family as the successor to Dani Carvajal. The 28-year-old once made his breakthrough as a loan player in the Bundesliga. Carvajal shone at Bayer Leverkusen in the 2012/13 season. Hakimi at BVB "very happy", but … Hakimi himself recently confirmed that he has a close relationship with Zidane: "I am very grateful to him for his belief in me and for the way he treated me . I will always be grateful to him, "said the native of Madrid in conversation with" Téléfoot ". Hakimi's advisor Alejandro Camano also underlined to "Sport1" that Hakimi was "very happy" at BVB, but that a return would depend "only on Real Madrid". The corona virus, which currently forces almost all European football to take a break, could still affect the deal. If the top European leagues can only end their season after the start of July, a solution will have to be found to deal with players whose contracts expire at the end of June.