Eintracht Frankfurt | Bobic: "… then we don't need to talk about transfers"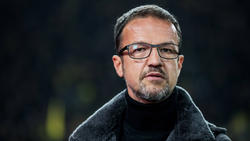 If the Bundesliga season does not continue soon, many clubs are at risk of financial difficulties. Top-class transfers in the summer would probably not be an option – not even at Eintracht Frankfurt, as sports director Fredi Bobic clarified.
"One thing is clear: It will be a very exciting summer in this regard – if we come back to play football. If you do not come to play football, we do not need to talk about transfers," said Bobic in an interview on the club's homepage.
    
That is why the SBU bosses are very conscientious, "because nobody can predict the impact for the coming transfer summer," said Bobic, emphasizing: "I am all the happier that we have many players with long-term contracts in our ranks and are well positioned to do so "However, the 48-year-old does not yet expect that there will be no transfer activities in the summer. "A lot of negative things have to happen so that a transfer summer does not take place again," said Bobic: "It is just that we are positive and good things that we can return to the pitch and it will be a reasonably normal transfer summer. We should first have a look at what happens before you imagine horror scenarios. "Infected players are" actually doing well according to the circumstances ". In the interview, Bobic also gave a current status on the two professionals infected with the corona virus:" You are fine The circumstances are actually quite good. The typical symptoms appear, but it is not a critical condition. "Soon, the remaining test results would also be available. "Therefore, it may be possible that one or the other player comes along and it will generally catch other participants – just like with any other team," said Bobic. In order to provide the professionals with healthy food even in quarantine the SBU set up its own app. According to Bobic, this offer is very well received by the players: "After all, athlete-friendly nutrition remains important, because the time will come after the crisis."