FC Bayern Munich plans no "craziness"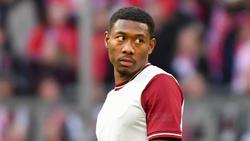 For months, David Alaba's possible departure from FC Bayern Munich has caused a stir. While the German record champions are fighting for an extension with their top star (contract until 2021), the competition is already positioning itself.
Exchange scenario causes trouble Alaba as part of a crazy exchange? Word break could accelerate Alaba farewell to Bayern Munich Signs by David Alaba allegedly say "goodbye" Barca refrains from Alaba transfer update Rumored by the media ether, FC Bayern Munich is striving to let David Alaba move to Manchester City as part of the purchase from Leroy Sané. The deal is said to have hit Alaba and his advisor Pini Zahavi badly. The "kicker" reports. According to this, Zahavi "reacted" in a small circle "" badly annoyed ", because his client" under no circumstances "plans to become part of the exchange scenario. Where the future of the 27-year-old lies is now in the stars. "Kicker" reports that Alaba is calling for a clear salary update for staying on the Isar, but in view of the Corona crisis, Munich is currently not ready to make "crazies", the trade magazine also claims to have learned that a Buying Alabas at FC Barcelona is currently not discussed, but Real Madrid should continue to reach out to the Austrian. Alaba's contract on the Isar ends in the summer of 2021. According to the newspaper, the idea for the barter business should not come from Zahavi, but from the two clubs themselves. Both FC Bayern and Manchester City saw the opportunity for this model as both the Alaba contract and the Sané 2021 contract expire, but neither Zahavi nor Alaba were pleased because the Austrian would like to move to Spain if he wants to decides not to stay in Munich.Update: 25.03.2020, 7:57 p.m .: Now it gets strange: According to "tz", Pini Zahavi, the new adviser to David Alaba, tried to get the Austrian into an exchange deal In the end, none other than Leroy Sané ended up in Munich and his client would have moved to Manchester City, where Pep Guardiola trains the coach who Alaba had under his wing during his years in Munich and the 27-year-old all season in defensive midfield, Alaba's favorite position, so win-win for Bayern and especially Alaba? Not even close! According to the report, Alaba was not at all pleased with Zahavi's efforts, because the Austrian international wants to win international titles, which is not possible with the Citizens due to the financial fair play violations and the associated ban on international competitions. 2020, 9:18 am As the "Sport Bild" reports, David Alaba's change of thinking has a lot to do with a broken word by those responsible in Bavaria. According to his last extension in March 2016, it was discussed that the Austrian would have probation opportunities on his future Favorite position in midfield. He sees this promise as "not fulfilled", it is said. He is particularly angry because another full-back was preferred in Joshua Kimmich and is now used almost exclusively as a six. Alaba, on the other hand, had to help out with central defense, and the 27-year-old has been dreaming of finally being able to play a more creative role at Bayern for years. In the national team, Alaba is the linchpin in midfield. According to "Sport Bild", consultant Pini Zahavi was "informed about the disappointing development". The latter can now use his connections to Real Madrid.Update: March 24, 2020, 8:51 a.m.After the Austrian international left his whereabouts in Munich open, Spanish media claim that the 27-year-old has already contacted Barca. A forthcoming change of consultant is fueling the rumor mill. According to "club circles", "Sky" last reported that Alaba has changed his consultant. The defensive all-rounder will therefore be represented by star agent Pini Zahavi in ​​the future. According to "Bild" the deal is not yet fixed. Alaba's father George – his son's main advisor so far – is still negotiating the last details with the Israeli. Nothing should stand in the way of a degree. The Bayern professional is said to have previously rejected an offer from the "Sports Total" agency, which represents Marco Reus and Toni Kroos, among others. "Sky" also wants to have learned that "the signs at Alaba are goodbye". The TV broadcaster has learned this from the defender's environment.FC Barcelona apparently refrains from Alaba TransferUpdate: 03/22/2020, 07:38 p.m. Numerous stars from the Bundesliga are associated with FC Barcelona. But now the Catalans are apparently withdrawing from almost all transfer negotiations, and the Corona pandemic threatens Barca – like all clubs – a huge minus. The current league leaders of the La Liga could be missing 60 million euros in the summer if the season is not continued, a scenario like this would also have a drastic impact on the Catalans' transfer efforts. As "Mundo Deportivo" reports, Barca wants to refrain from many possible new additions. Accordingly, a change from David Alaba is no longer up for debate. Update: 20.03.2020, 07:31 clock David Alaba leaves several options open for his further career. "I feel very comfortable in Munich. But I can also basically imagine taking a different path. That will show up at some point. I'm not worried about that at the moment," said the Austrian international to the magazine "GQ Gentlemen's Quarterly". How it will go for him one day after his career is "difficult to say," said Alaba. "I know how fast-paced football is and my life so far has been like that. But I can imagine going away for a year or two, for example living in the USA and getting to know the culture there. Or me I'm in Austria, in Vienna, in my home country, or also in Munich. Let's have a look, "said the defender. Update: March 7th, 2020, 1:40 pm Eight stars could leave FC Bayern in the coming summer because their contracts only run until 2021 – including David Alaba. The all-rounder is once again associated with Real Madrid in Spain. The portal "Don Balon" reports that Alaba is still the dream player of the mighty Real President Florentino Pérez. The 27-year-old Austrian has been watched by the scouts of the royal for years. The outstanding performances in the position of the central defender, which he had previously been unfamiliar with this season under Hansi Flick, are said to have fueled the interest of the Spanish record champions once again – also with regard to a possible farewell to the now 33-year-old captain Sergio Ramos, whose contract after the Season 2020/2021 expires.