Formula 1 canceled due to Corona crisis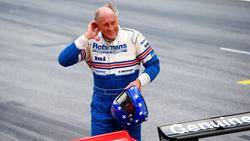 Hans-Joachim Stuck is one of the most legendary German racing drivers of all time. In addition to his Formula 1 career, in which he competed in 74 Grands Prix between 1974 and 1979, "Strietzel" Stuck also drove for many years in the DTM as well as various endurance championships.
sport.de spoke exclusively to the 69-year-old about the motorsport-free period during the Corona crisis, the further consequences for the entire Formula 1 circus and the approaching death of Niki Lauda.
    
Mr. Stuck, the most important question: How are you and your family? Hans-Joachim Stuck: Thank you for asking. Thank God we're fine, we almost certainly haven't gotten infected yet. I would like to say that I have been living in Austria for many years and that I also have Austrian citizenship. With Federal Chancellor Sebastian Kurz and Tyrolean Governor Günther Platter, we have two really capable politicians whose guidelines and recommendations we are on the right path to. How much do you miss motorsport and how do you pass the time instead? Motorsport is of course something at the moment moved into the background. I have a great wife and two dogs who are now getting their money's worth. Now family life is the order of the day. In addition, you come to things that you would otherwise not be able to do – be it to create order in the office or to tinker with my two classic cars. Basically, I am a very active and jittery person, so decelerating has been good for me so far. But of course I miss the personal contacts. In economic terms, however, we have to find a way to loosen the restrictions in the foreseeable future tried to drive. Eventually agreements were made. In retrospect, I have to say that the trip to Australia could have been saved. The preparations were particularly critical for the Italian teams Ferrari and AlphaTauri. Therefore, the cancellation was definitely too late for me. In the meantime, all races were postponed until early June, Monaco was even completely canceled. What effects will the Corona crisis have on the premier class? One thing is clear: Sports and other events such as concerts have to be at the bottom for the time being. Nevertheless, we cannot ignore the economic problems here either. Solutions have to be found. I think that the later start of the season can now be used to put one or the other on a new footing. What areas do you think of? For example: do we really need 22 races a year or would half be enough? In addition, one should rethink the new rules with a view to possible cost savings. Perhaps a little less technology would also help the driver's performance to have more influence on victory or loss. We have good people like Toto Wolff, Helmut Marko or Jean Todt who should now use the time to think about basic things. I think that's very important, will the unexpected time saving even be an advantage for Ferrari? Before the start of the season, the new Bolide was not necessarily the winning car … Right. The question, however, is when the Ferrari factory can start work again. A regulation must be found slowly, far beyond motorsport. People, especially those who belong to the risk group, must be protected in such a way that they can leave their own four walls. But you are right: the teams that previously had disadvantages may still develop in relation to Formula 1, but at some point it will be tight from a scheduling perspective, right? A Canada GP in the cold October would be almost unthinkable, that's true, but why not have two races in one weekend? … with free practice, qualifying and the Grand Prix? No, you have to adjust the rules. A qualifying on Friday would be conceivable, from which the starting grid for both races emerges. Why not? This would also meet the fans who are facing difficult economic times themselves. They would experience motorsport in a compressed way, but it is certain that the Formula 1 season will be driven without the classic in Monaco. What thoughts are going through your head here? On the one hand, it's a shame because Monaco is one of the five highlight races of the season. On the other hand, I understand the decision, because no Grand Prix is ​​as close to each other as in the Principality. In addition, the course is not a permanent route. They can't leave the guardrails on the streets all year round, of course they know the current Formula 1 drivers very well. How do the top pilots cope with this waiting position? Then I'll start with myself: I'm absolutely on hot coals (laughs). So how does the current Formula 1 driver have to do? Racing is her main job. Lewis Hamilton will be excited to see that it finally starts. I am sure that he sits in the simulator every day. That certainly applies to others. Daniel Ricciardo is also very active, as a look at his Instagram channel reveals, and despite the Corona crisis, we shouldn't forget other important events. Niki Lauda's death is in May for the first time. How often do you think of him? Very often – for two reasons. Actually, we had planned a memorial event for his anniversary as part of the 24-hour race at the Nürburgring. I should give an eulogy. The mourning card that was sent to me at the time is also on my desk. I really like the saying: "Never start and never stop." That fits Niki one-on-one. Thanks to the photo in my office, we are still close together today. His death is still very close to me, especially since I know how he had to spend the last months of his life. It was hell for him. Niki has always set the course for the future, his death is a huge loss. What do you think of how Niki Lauda would have dealt with this corona crisis? Niki would have said: "Now go everyone home, put your heads together and do something clever out of it. "The conversation was conducted by Dennis Ebbecke