Formula 1 introduces virtual racing series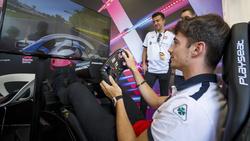 Because all Formula 1 races are canceled or postponed until at least June, some pilots take refuge in virtual worlds. Max Verstappen and Lando Norris have already participated in SimRacing events in the past few days, now Formula 1 officially introduces its own virtual racing series for the stars of the premier class under the name "Virtual Grand Prix Series".
A virtual race is to take place on every original Grand Prix Sunday at least until May – starting as early as next Sunday with the Bahrain Grand Prix. So the series will include at least six virtual races. An expansion of the series is possible if further real races have to be canceled or postponed from June.
    
It is not yet known who will take part in the virtual championship. We are currently only talking about a few "current Formula 1 drivers" and other "stars", which are to be announced soon. The official game "F1 2019" is played – but not at the highest level of difficulty, to enable even newcomers to participate, as it is said. Formula 1 streams on YouTube and Co. For example, some driving aids are available, and all virtual ones Cars will have the same performance. It starts on Sunday at 9:00 p.m. CET. The Bahrain virtual Grand Prix will then be broadcast on the official Formula 1 social media channels (YouTube, Twitch and Facebook). There is a qualifying session and then a race over 28 laps. In the following weeks there will be virtual races in Vietnam, China, Zandvoort, Barcelona and Monaco. However, because Vietnam and Zandvoort are not available in F1 2019, they should be replaced by another route. It has not yet been announced what these will be. It is also not clear whether the participating drivers will also be taking part in all six races, so it is involuntarily funny to note in the press release that the virtual races are only for entertainment purposes and that there are no official points for the Formula 1 World Championship 2020 will be awarded. Because that should be clear anyway.