Goal FC Bayern Munich? Jonathan David talks about Bundesliga change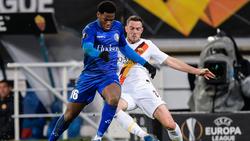 The young Canadian international Jonathan David is one of the players that FC Bayern has set its sights on the future. The record master's interest has long been considered to be securitized. Now the 20-year-old has commented on a possible move to the Bundesliga.
"I have to be smart and look for a club that offers a nice project," David told the Belgian magazine "Le Vif". The offensive player, who has been associated with Bayern for several weeks, added that he had to take a "calculable risk" when choosing his new club.
    
He feels ready for the next step, confirmed the youngster, who started his career in 2018 with the Belgian first division club KAA Gent and who still plays in second place today. "Bundesliga is a wonderful competition" "People say that the first Belgian league is not particularly strong, but it is a great springboard for young people who want to get a chance at the highest level," said David, who is based in Ghent feels good, but is already flirting with a commitment to the Bundesliga: "The Bundesliga is a wonderful competition. I think it is the last step before moving to a very large European club." the twelve-time international has already heard. "I could tell my friend Alphonso Davies to tell Bayern about me. I have great respect for the path Davies has taken. He is a role model for me," the 20-year-old indicated, that he too can imagine a change to the German record champions.David's consultant Nick Mavromaras sees it very similarly and said with regard to his client's switch options as early as February: "Germany comes first." The offensive player is still contractually bound to Ghent until 2022 , after 23 goals in 38 competitive matches, David has become the focus of larger clubs this season. FC Bayern should only be one of them. FC Barcelona, ​​Real Madrid, Juventus Turin and Manchester United are said to have already expressed interest.