How FC Bayern is prepared for the crisis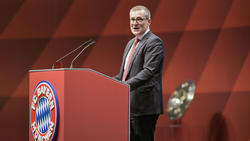 Munich in a watchful eye: After President Herbert Hainer, CFO Jan-Christian Dreesen also pointed out the great financial challenge for FC Bayern in the corona virus crisis.
"FC Bayern has certainly done well in recent years, which enables it to deal with crises," said Dreesen on the club's website.
    
However, the situation to be dealt with would be even more difficult for FC Bayern and for other companies in the event of a long-lasting crisis. "Of course, we have to constantly reassess the constantly changing situation and can therefore still not say today how the economic effects of an intensification will be able to, "said Dreesen. Whether competitions can be held is not only important for FC Bayern in terms of sport, but also economically. "One thing is already clear: in national and international football, clubs, leagues and associations face a huge challenge with existential concerns. The good one The message is: Football will continue to be played even after the crisis, and we will need our good employees even more, "said the 53-year-old. The Bundesliga club with the strongest financial results achieved last season, which was sporty by winning the German championship and the DFB Cup ended, the group as a whole had a turnover of 750.4 million euros. Profit after tax also grew strongly to EUR 52.5 million. However, the club also has to meet immense personnel costs.