Leclerc dreams of Schumacher's World Cup car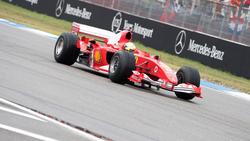 Ferrari has produced a number of famous cars over the years, many of which Formula One drivers of the current era would like to get an impression of. At the "Autosport International Show", Charles Leclerc had a clear answer when asked which former Ferrari car he would like to test.
"Probably the 2004 Formula 1 Ferrari. Because it was extremely fast and just to drive with this sound. I think we are a little lacking in Formula 1 at the moment. And driving that gives you one just emotions, "said Monegasse, who will be completing his second year at Scuderia in 2020.
    
The Ferrari F2004 was designed and developed by Ross Brawn, Rory Byrne and Aldo Costa. It was based on the world champion car from 2002, the front suspension and exhaust system were completely overhauled. By car, Ferrari won the driver and designer title in the 2004 Formula 1 season, which was also Michael Schumacher's last world title. Together with Rubens Barrichello, he won 15 of the 18 races this season (13 by Schumacher, two by Barrichello). Together, they were also in pole position twelve times. The F2004 is one of the most successful racing cars in Ferrari history, and Leclerc said that the model he'd like to get his hands on is a LaFerrari when it comes to street cars. When asked if he shouldn't ask team boss Mattia Binotto if he could get it as a company car and where he would park it in Monaco, Leclerc replied with a smile. "The parking lot? I'm pretty sure I have a place if you give it to me as a company car. But it will probably be difficult to get it as a company car, "said the Ferrari driver. But maybe something can still be regulated in the next four years of his contract …