Mikaela Shiffrin presents thank you song for Corona helpers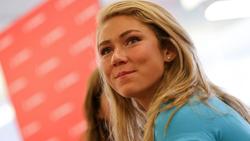 Corona is creative – at least Mikaela Shiffrin. The Olympic ski champion took advantage of the forced break and wrote a thank you song for all people who, despite the pandemic, still have to do their work.
"We are with you, give you love and strength to fight," Shiffrin sings in a video that she shared on her channels on the Internet, and she plays on an acoustic guitar. The film was clicked ten thousand times within a few hours.
    
"We see incredible acts of kindness and selflessness every day. I did a little thing in the big picture of all these things – I wrote a song," Shiffrin explains her motivation for the song.