Nepomnjaschtschi extends leadership at World Cup candidate tournament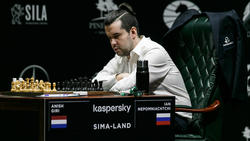 Russian Jan Nepomnjaschtschi continues to dominate the Chess World Cup candidate tournament in Yekaterinburg. After his victory in the 6th round against the Chinese Ding Liren, the 29-year-old grandmaster has 4.5 points and is already one point ahead of the rest of the field.
In a Spanish game, Nepomnjaschtschi was well prepared and immediately put his opponent under pressure. The 27-year-old Chinese launched a desperate attack against the white king, who could have saved him a draw. Ultimately, however, Ding gave up after almost three hours. "This tournament is all about the result. It would have been a shame not to win such a game," said the winner.
    
Frenchman Maxime Vachier-Lagrave is in second place with 3.5 points. Against Wang Hao from China, however, he had to use all his defenses to save a draw in a final with one pawn less. Alexander Grischtschuk (Russia) and Fabiano Caruana (USA) also drew and are just like Wang Hao with 3.0 points and Anish Giri (Netherlands) in the middle of the table. "The way I play, it would be ridiculous to think about one of the top spots now," said Grishchuk self-critically. Giri took the first win against Kirill Alexejenko (Russia) and after a day off, the 7th round continues in Ekaterinburg on March 25. Then it comes to the top duel of Nepomnjaschtschi against his toughest pursuer Vachier-Lagrave. The tournament ends on April 3. The winner fought for the right to challenge world champion Magnus Carlsen (Norway). The World Cup is scheduled to take place in Dubai at the end of the year.