NHL: Leon Draisaitl shines at Elf-Tore-Kracher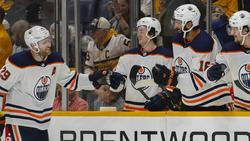 Germany's ice hockey superstar Leon Draisaitl has provided another highlight and broken his personal record in the North American professional league NHL.
The striker scored four goals in his Edmonton Oilers' 8-3 win at the Nashville Predators and scored another goal.
    
As the best scorer in the league, Draisaitl set his personal record from the previous season from 105 to 107 scorer points. 64 assists are added to the 43 own goals. And there are still 16 main round matches to be played. Statistically speaking, Draisaitl is heading towards approx. 133 points. He would have a great chance to be the first German to receive the Art Ross Trophy for the best scorer in the league. 133 points would also be the highest scorer number since the superstars Mario Lemieux and Jaromir Jagr, who won the Pittsburgh Penguins in the 1995/96 season came to 161 and 149 points. The title went to Colorado Avalanche at the time, after today's shark coach Uwe Krupp's winning goal in the extension of the fourth final against the Florida Panthers, alongside Draisaitl, who was voted Player of the Month in the NHL for the second time in a row on Monday. came his congenial striker Connor McDavid against Nashville with four assists and a goal on five scorer points. "Nights like that don't always happen," said Draisaitl, "you don't always score five goals in a third." The Oilers made their 35th win of the season clear in the final section (5-0), Draisaitl scored three times. "If you score four goals, you feel good. You feel good for yourself, for your teammates. They made it very easy for me today," said the 24-year-old.