Ronaldinho remains in custody for passport scandal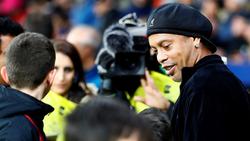 Brazil's ex-world footballer Ronaldinho remains in prison for his fake passport affair. On Friday, an appeals court rejected the lawyers' renewed application for the former world footballer's release. Another court had already rejected an application for bail or house arrest two days earlier.
Ronaldinho, like his brother Roberto Assis, had been arrested with fake ID after entering Paraguay. According to Ronaldinho's lawyers, both are sitting in a barren prison barracks of the National Police in Paraguay's capital Asuncion.
    
"The risk of escaping and the risk of hindering the investigation, which forms the basis of the detention against the Assis Moreira brothers, have not changed," said the judges of the court of appeal. According to prosecutor Federico Delfino, 16 people were already involved in the scandal of counterfeit passports, and Ronaldinho and his brother had arrived in Asuncion on Wednesday last week with falsified documents that attested Paraguayan citizenship. The documents were not collected by the police until hours later in the hotel. After the first interrogation, the siblings were released, and a day later a judge ordered the arrest.