Rummenigge sees the end of mega transfers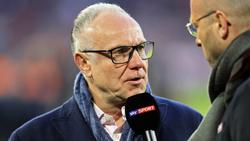 Former international Michael Rummenigge expects the corona crisis to plunge into the football market.
"This is why there will soon be no reports of the execution of transfers – least of all with transfers in the amount of 120 million euros or more," wrote the 56-year-old in a column for the "Sportbuzzer".
    
Rummenigge, who also runs a sports marketing agency, also expects the salary sums for the top earners in the industry to drop significantly. "The clubs will act more economically in the future, they will be forced to do so due to the lack of income for the time being," he wrote. Rummenigge takes rich clubs into their duty. "Because one thing is clear: if one or the other club falls by the wayside, we cannot host the Bundesliga with nine teams," said the former professional, who previously played for FC Bayern Munich and Borussia Dortmund. Because of the shrinking Bayer Leverkusen could no longer calculate the financial strength of the clubs with the targeted 100 million euros for a transfer by international Kai Havertz. "You shouldn't give it up for 50 or 60 million. Because: If everything is over and the money should actually flow again at some point, you can still sell it," Rummenigge recommended.