"Small contribution for the people in my homeland"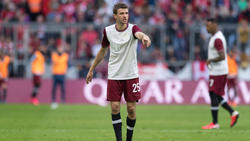 Thomas Müller from FC Bayern Munich is making a statement in his home region with a special campaign in times of the corona crisis.
The 30-year-old donates a warm meal to people who "uphold public life in the Weilheim district" with their work.
    
Those interested can pick up the meal on Fridays and Saturdays from 12 noon to 7 p.m. in the restaurants "Alte Post" and "Neue Post" in Pähl. In the former restaurant there is roast pork with potato dumplings, in the other there is schnitzel with potato salad – to take away ( "to go"). "We are currently in an exceptional situation that has not existed in the past 75 years," said Müller: "I am trying to make a small contribution to the people in my home with this campaign, who are currently doing great things for our society. "