State of Bavaria wants to ban major events with more than 1000 guests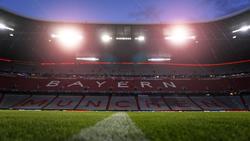 The corona virus could now also lead to restrictions in sports in Bavaria. As reported by the "Süddeutsche Zeitung" on Monday evening, the Bavarian government wants to ban events with more than 1000 guests until Good Friday.
The black-orange coalition committee (CSU and free voters) agreed on Monday in Munich. There was initially no official confirmation in the evening.
    
Among other things, home games of the German record champions FC Bayern Munich would be affected, including the return leg in the round of 16 of the Champions League against Chelsea next week. In addition, the pre-playoffs in the German Ice Hockey League with games in Nuremberg, Ingolstadt and Augsburg. Federal Minister of Health Jens Spahn had previously called for more drastic measures to prevent or at least slow the spread of the corona virus. "I expressly encourage those responsible to take part in events to cancel more than 1000 participants until further notice, "said the CDU politician on Monday afternoon in Berlin. "This does not mean that the sport does not take place, but the question is among how many participants," he said. Games are probably meant to exclude the audience.