Stefan Thesker infected with corona virus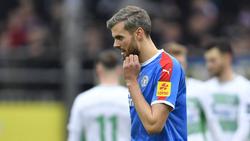 Center-back Stefan Thesker from the second division soccer team Holstein Kiel was the next professional to be tested positive for the corona virus. The club announced on Saturday.
As a result, "the entire team and their families were ordered to be quarantined at home for 14 days," it said.
    
The former U21 international Thesker is the fifth known case in German professional football. Previously, Timo Hübers, Jannes Horn (both Hannover 96) and Fabian Nürnberger (1. FC Nürnberg) had tested positive in the 2nd division. Paderborn's Luca Kilian also announced the positive test in the Bundesliga on Friday, and Nuremberg announced on Saturday that the tests ordered did not result in any further positive results.