The gentleman and the beginning of a new era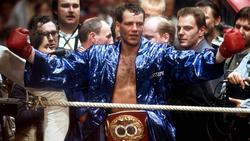 March 20 is still a special day for Henry Mask. On that Saturday in 1993 the "gentleman" was crowned professional world champion for the first time and ushered in a new era in German boxing, which was later to go down in the history of the sport as a golden era.
The Brandenburg native had already won everything as an amateur before the Wall came down, became world champion and in 1988 also Olympic champion in Seoul. Shortly after the fall of the wall, the ever-humble swarm of women decided to pursue a professional career in Wilfried Sauerland's boxing stables in Berlin and indicated his class in his early struggles.
    
On March 20, 1993, MASK won the IBF title in front of 6200 spectators in the sold-out Philipshalle in Düsseldorf with a clear point victory (115: 111; 118: 110; 116: 111) over the American "Prince" Charles Williams. The verdict was announced at 0:43 a.m. and a new era in boxing in Germany was ushered in. "Henry MASK, the champion", headlined the "Hamburger Abendblatt" the day after the fight. Mask attracts up to 18 million viewers to the screens 3.1 million viewers watched the appearance of Sir Henry on TV, who received a modest stock exchange of DM 100,000. In the future, his promoter Sauerland predicted back then, his protégé could make millions, and that's how it happened. The Mask World Cup fights in reunited Germany became major television events in the 1990s, TV partner "RTL" rejoiced over ratings of up to 18 million viewers – an unimaginable number today. The semi-heavyweight defended his world championship title ten times alongside coach Manfred Wolke and finally brought professional boxing out of the dirty corner with a lot of pomp and show thanks to glamorous TV productions.