These two mega-changes burst before and during the time at FC Bayern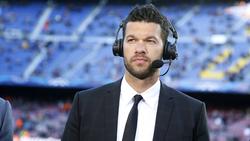 Between 2002 and 2006 Michael Ballack played at FC Bayern Munich and was three times champion and three times DFB Cup winner. Only in the 2003/2004 season things didn't go so well for the German record club, which is why the midfielder almost switched to an absolute top club from Spain, as he has now revealed.
In retrospect, he "never regretted anything at all of his stations," Ballack told "Sky Sport UK", even though he left many opportunities unused or had to leave unused, as in 2004. "We had just missed the championship with Bayern. In the club There was general dissatisfaction. That's what it is like for a top club if it doesn't win, "the 43-year-old looked back.
    
"I wasn't really happy either. I had an offer from FC Barcelona at the time. I was also about to change, we agreed," the former international admitted. "I spoke to those responsible for Barca and everything was actually clear." Ultimately, it was only about the transfer fee. "That was the only thing that was still missing," said Ballack. However, those responsible at FC Bayern and Barcelona could not agree and the change failed. "I had a lot of (arguments) talks with Uli Hoeneß during this time," recalled the midfielder. "We talked about a lot, including things that didn't go well in the club." Ballack: Real Madrid was also an option, and it was also about improving the squad that Ballack did not see at the highest level. "Especially for the Champions League. In order to play for titles internationally, we would have had to strengthen the squad!" Said the 43-year-old. In fact, Ballack's international triumph (with all of his clubs) was denied until the end of his career, whether a move to Real Madrid would have changed anything? Apparently the royal team was also targeting Ballack in the early 2000s. "I could have gone to Real Madrid in 2002 and Barcelona, ​​two of the best teams in Europe in 2004. Obviously that would have been interesting afterwards and I would have loved to have seen what happened to them Clubs would have run for me "," Sky "quotes the Germans. In the end, however, he was happy with the decisions he had made in his career, especially since" in the case with Barca it was not my decision, but my decision at the time Bayern Munich Association. I accepted that. ".