Aytekin defeats Gladbach Star at FIFA 20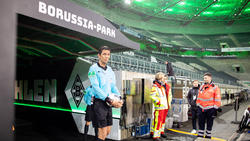 eSports
Soccer
Germany 2. Bundesliga News
Goalscoring "Bundesliga Home Challenge"
Aytekin defeats Gladbach star at FIFA 20 – Hakimi celebrates
04/04/2020 22:07
© Moritz Müller via www.imago-images.de Deniz Aytekin took part in the "Bundesliga Home Challenge"
Borussia Dortmund's Achraf Hakimi celebrated a goal festival on the Playstation on the second day of the "Bundesliga Home Challenge".
After a 2-2 in the previous week, the 21-year-old celebrated a safe 6-1 victory over Dominik Schmidt from the second division team Holstein Kiel in the soccer simulation FIFA 20 – he also scored twice with his own character. As a result, BVB's wing racer turned the encounter to 7: 4 after Youtuber Erne Embeli's opening defeat (1: 3).
    
Here are the games in the video: Previously Maximilian Mittelstädt had gotten under the wheel and thereby gambled a sure victory for Hertha BSC. The defender of the capitals received a sensitive 1:11 swatter against Nico Schlotterbeck from league rival SC Freiburg. eSports athlete Elias "Mern22" Nerlich had previously brought the Berliners into a more than promising starting position with a 6: 1 in the first game against SCF substitute goalkeeper Mark Flekken. Aytekin defeated Gladbach star Hofmann29 of the 36 professional clubs from the 1st and 2nd Bundesliga are represented on the second weekend of the Home Challenge, and the referee duo Deniz Aytekin and Daniel Schlager also participated for the first time. While Schlager had no chance in the game against Borussia Mönchengladbach (0: 4), Aytekin caused a exclamation mark with his 2-1 victory against foal professional Jonas Hofmann, compared to 26 teams last weekend. There is at least one licensed player per team and "one person from the respective club or its environment" such as an eSport athlete at the start. Each encounter in FIFA 20 consists of two separate games, with a total of 25 minutes of play per scheduled. The results are added together. Officially, however, the new competition is not included in any sporting ratings, and because of the corona crisis, both the game operations in the football leagues and the FIFA Global Series of eSports are currently at a standstill. Darmstadt 98 2: 4 [Spiel 1: 1:2 / Spiel 2: 1:2] 4:20 pm: Hertha BSC vs SC Freiburg 7:12 [Spiel 1: 6:1 / Spiel 2: 1:11] 5:10 pm: 1. FC Köln vs. SpVgg Greuther Fürth 5: 5 [Spiel 1: 2:3 / Spiel 2: 3:2] 6:00 p.m .: Borussia Dortmund vs. Holstein Kiel 7: 4 [Spiel 1: 1:3 / Spiel 2: 6:1] 18:50: 1899 Hoffenheim vs. 1. FSV Mainz 05 12: 1 [Spiel 1: 7:0 / Spiel 2: 5:1] 19:40: SC Paderborn vs. Wehen Wiesbaden 4: 6 [Spiel 1: 4:0 / Spiel 2: 0:6] 8:30 p.m .: RB Leipzig vs. Werder Bremen 4: 4 [Spiel 1: 2:3 / Spiel 2: 3:2] 9:20 pm: Bor. Mönchengladbach vs. Referee 5: 2 [Spiel 1: 4:0 / Spiel 2: 1:2] [fett markiert: Sieger der Partie – Endergebnis wird aus Spiel 1 und Spiel 2 kumuliert]
Maximilian Mittelstädt had previously gotten under the wheel and thereby gambled a victory that Hertha BSC believed to be safe. The defender of the capitals received a sensitive 1:11 swatter against Nico Schlotterbeck from league rival SC Freiburg. eSports athlete Elias "Mern22" Nerlich had previously brought the Berliners into a more than promising starting position with a 6: 1 in the first game against SCF substitute goalkeeper Mark Flekken. Aytekin defeated Gladbach star Hofmann29 of the 36 professional clubs from the 1st and 2nd Bundesliga are represented on the second weekend of the Home Challenge, and the referee duo Deniz Aytekin and Daniel Schlager also participated for the first time. While Schlager had no chance in the game against Borussia Mönchengladbach (0: 4), Aytekin caused a exclamation mark with his 2-1 victory against foal professional Jonas Hofmann, compared to 26 teams last weekend. There is at least one licensed player per team and "one person from the respective club or its environment" such as an eSport athlete at the start. Each encounter in FIFA 20 consists of two separate games, with a total of 25 minutes of play per scheduled. The results are added together. Officially, however, the new competition is not included in any sporting ratings, and because of the corona crisis, both the game operations in the football leagues and the FIFA Global Series of eSports are currently at a standstill. Darmstadt 98 2: 4 [Spiel 1: 1:2 / Spiel 2: 1:2] 4:20 pm: Hertha BSC vs SC Freiburg 7:12 [Spiel 1: 6:1 / Spiel 2: 1:11] 5:10 pm: 1. FC Köln vs. SpVgg Greuther Fürth 5: 5 [Spiel 1: 2:3 / Spiel 2: 3:2] 6:00 p.m .: Borussia Dortmund vs. Holstein Kiel 7: 4 [Spiel 1: 1:3 / Spiel 2: 6:1] 18:50: 1899 Hoffenheim vs. 1. FSV Mainz 05 12: 1 [Spiel 1: 7:0 / Spiel 2: 5:1] 19:40: SC Paderborn vs. Wehen Wiesbaden 4: 6 [Spiel 1: 4:0 / Spiel 2: 0:6] 8:30 p.m .: RB Leipzig vs. Werder Bremen 4: 4 [Spiel 1: 2:3 / Spiel 2: 3:2] 9:20 pm: Bor. Mönchengladbach vs. Referee 5: 2 [Spiel 1: 4:0 / Spiel 2: 1:2] [fett markiert: Sieger der Partie – Endergebnis wird aus Spiel 1 und Spiel 2 kumuliert] ",
"publisher": {
"name": "sport.de",
"@type": "Organization",
"logo":{
"@type": "ImageObject",
"height": 26,
"width": 170,
"url": "https://s.hs-data.com/comon/prj/isdc/v2/sportde/static/gfx/sport_de_logo.png"
},
"url": "https://www.sport.de/"
}}