Boateng brothers united at Hertha? Preetz responds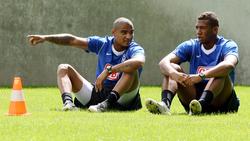 Managing Director Michael Preetz was delighted to hear the thought that the brothers Kevin-Prince and Jérôme Boateng could imagine a joint end to their football careers at their home club Hertha BSC.
"It is nice to hear that the two still have such a close connection to Berlin and Hertha BSC. They are boys from Berlin and both have achieved a great deal in their careers and have seen the world," said Preetz of the online edition of the "Bild" newspaper on Thursday: "It is totally understandable that one day she will be back home, back in this great city, and I am very happy."
However, it is extremely unlikely that Jérôme and half-brother Kevin-Prince will actually play together again in the Bundesliga for the Berliners. The two professionals had expressed themselves in a relaxed, live conversation on Instagram on the subject. According to "Bild", the Boatengs were more likely to imagine cooperation opportunities after their active career at Hertha. "When the time comes, we will definitely exchange ideas," said ex-professional Preetz, rather cautiously. Kevin-Prince Boateng, who is currently playing at Besiktas Istanbul in Turkey, went through the Hertha offspring and was also a professional until 2007 Team before he turned his back on the capital. Bayern professional Jérôme Boateng left Berlin in the same year. Both were born in Berlin.